What you don't know can't hurt you, right?
In some situations, perhaps. But not if you're in the business of preparing and serving food, where hidden behaviours and data are not only a risk to your brand and reputation: they're a threat to your customers' health.
It only takes one incident to seriously harm a customer or damage your brand. And without visibility over your key processes, you have no way of knowing who or what was at fault, how to prevent it from happening again, and whether there are wider problems at play.
So, what can you do to eliminate these potentially damaging oversights?
Here are four areas of your daily operations that digitalization will shine a light on and why you can't afford to ignore them any longer.
1.

Digitize your food safety logbooks
Logbooks are the bedrock of any catering business. They:
Prove that food safety and storage procedures are followed




Provide a paper trail in the event of complaints or legal action




Help, ultimately, to keep customers safe
They can also be the difference between commercial success and failure. If an environmental health officer (EHO) inspects your logbooks and decides they're not up to scratch, they could give your business a customer-repellingly poor hygiene rating, put it in special measures – or even shut it down completely.
It's vital, then, to keep your records organized and up to date. But here's the problem. Most logbooks are still physical, paper things that have to be filled out by hand. This not only creates unwanted extra admin for busy staff, but it also makes records easy to falsify.
Another danger with paper logbooks is that they can be seen simply as a tool to keep the EHO happy. Busy employees might skip their paperwork in the moment and do it retrospectively, merely as a box-ticking exercise. And when this is the case, you can never truly know how compliant your business is.
A simpler, clearer process
With a workflow management tool like mpro5, you can digitize your logbooks to make the whole record-keeping process faster, simpler and more transparent.
Employees can log their food safety checks in just a couple of taps – with photographic evidence if needed – instead of having to write them all out by hand. And entries are timestamped and tied to a user, making them virtually impossible to falsify.
Data is gathered continuously, and you can access it 24/7. This allows you to spot trends, identify and fix failures quickly, and know your compliance status at all times – rather than discover major issues on the day of an audit itself.
Perhaps most crucially, everything lives in one central location in the cloud. So if you're ever audited or investigated, all your logbook data is available in one click. This means no more trawling through offline records – not to mention a considerable reduction in your paper consumption.
2.

Move your profit protection records to the cloud
Profit protection, quite simply, is about keeping your business profitable. It involves identifying and minimizing all potential sources of financial loss, from waste and shrinkage to theft, fraud and non-compliance.
Much like food safety logbooks, profit protection records are often kept on paper and in spreadsheets. Because of this, the challenges around keeping up-to-date entries, preventing falsification, and creating reports are much the same.
Gathering and collating data from a mixture of analogue and digital sources is also a huge admin burden. Sources of loss must be identified and fixed as quickly as possible, to prevent them from escalating and becoming a serious risk to your business. But that's not possible if you're having to wait days or even weeks for the data you need.
A cloud tool like mpro5 can streamline the whole process. It allows you to store your profit protection data in one central hub, which in turn lets you zoom out, see the full picture and join the dots between incidents.
It also gives you the ability to set up automatic remedial actions – based on a set of rules you define – to quickly shut down problems as they arise. This means you can identify, fix and report on issues in a matter of hours rather than days or weeks.
3. C

reate digital checklists for compliance with Natasha's Law
The introduction of Natasha's Law in October 2021 means catering businesses now have an even greater responsibility to ensure their food labelling is clear, comprehensive and easy to understand.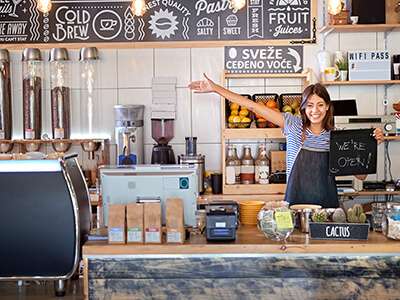 Failure to comply with the law is a criminal offence which could not only damage your business, but also have potentially tragic consequences. But with so many moving parts in the food preparation process, how can you know for sure that your business is compliant?
Digital checklists for your staff and suppliers are one simple but effective method. Have they prepared their medical diets today? Do they have evidence to prove it? Have they used the correct food labelling? These are just some of the steps such a checklist might include.
With mpro5, checklists are stored and managed in a single, central location in the cloud. Staff can work through them on a mobile app, instead of making unreliable paper records. And because they are timestamped, mandatory actions that require photographic evidence, there's no room for cutting corners or falsifying information.
4.

Set a new standard for brand standards
Giving your customers a consistent, predictable experience every time they use your services: that's brand standards in a nutshell.
Brand standards cover everything that could influence someone's perception of your business – from staff uniforms and in-store signage to portion sizes, product descriptions, and the correct positioning of products.
High brand standards help improve customer trust and loyalty. But if you let even the smallest details slip, you risk both financial and reputational loss to your business.
See the big picture
With so many checks and procedures involved – and so many people carrying them out – how can you be sure that brand standards are being properly upheld across your business?
If your processes rely on paper-based logbooks and reporting, it's difficult to gain a clear view of your brand standards at any given time.
This, again, is where a cloud tool like mpro5 can come into its own. It lets you create digital checklists for all aspects of your brand standards, making it quicker and easier for your staff to follow and log their procedures.
All brand standards data can be stored in a single, central location. This allows you to pinpoint areas for improvement and tighten up processes. And it creates a clear, digital paper trail – with photographic evidence – should you ever face a compliance dispute with an external brand or supplier.
Start small. Plan big.
Digitizing your key processes and compliance procedures may seem like a daunting and expensive prospect, particularly if you have a large business. With a tool like mpro5, however, you can tackle it all piece by piece:
Start with a single process – ideally one where a digital workflow could have the most impact
Monitor its performance over a few months
Roll it out to other processes and areas of the business, as and when you have the resources
Over time, by centralizing all your key data, you'll start to understand exactly how efficient and compliant your business is. You'll be able to identify trends and recurring problems, react to them immediately, and make decisions based on solid data – not gut feel or anecdotes.
Above all, it will save your employees an enormous amount of time. And in the catering industry, time really is money.