There is still a perception that Smart Stations are a future technology with limited practical benefit. In this article Toby Hawkins, sales director of 'Software as a Service' provider mpro5, considers the substantial returns that the Internet of Things (IoT) can provide today when used in stations.
Toby began by saying that, "With UK rail reforms coming into play soon, it will be vital that train operating companies have new systems that help them to measure and improve on all the factors that influence the customer experience. Smart technology and real-time monitoring enable intelligent decision-making, whether it is a busy transport hub in a city or a rural, unstaffed station.
"There is a perception that it is future technology that is yet to come to fruition, but one of the best kept secrets in the IoT industry is that this tech is readily available now and can provide a positive ROI.
The future is now, it is here and you can afford it. I often talk to people in the industry about IoT, and what I always say to them is that if they are looking to increase their efficiency, delivering a better customer experience while intelligently deploying their resources, then making your stations smart is a great start."
Crowd Control in Railway Stations
One of the strongest use cases for this kind of monitoring applies to remarkably busy stations. Over-crowding is a significant safety concern, especially in bottleneck areas when people are rushing to catch trains or exit the station in case of emergency. Since the pandemic and the easing of lockdown, it's more important than ever to be able to easily disperse crowds reactively to allow for social distancing and passenger comfort.
"When you think about the big mainline stations, during pre-covid times, it was the judgement call of station staff who had a decent vantage point to see the crowds and anticipate problems. The experience and instincts of staff will go a long way here, but even with this, you are going to have blind spots. If you can supplement that experience and knowledge with data, then those interventions will be even more effective.
Of course, instinct is important and should override data sometimes, but having this information lets you act with greater precision. It may well show you that the crowding is clearing more quickly than you anticipated, or that over-crowding is about to happen due to an unforeseen factor," Toby said.
Video analytics running on connected cameras can detect crowding in real-time and alert train station staff to move passengers along or open additional gates and exits, depending on the level of footfall. Monitoring passenger counts at bottlenecks can also be used as part of a "Stop and Go" system, which can trigger digital displays as well as manual intervention by station staff to "throttle" the flow of passengers.
In the long term, patterns can be identified from the data collected to improve station layouts accordingly and pre-emptively control expected crowds. This is essential for safety and assurance in a post-covid world where passengers remain nervous of travel. By managing and pre-empting crowding issues, you create a pleasant and safe transport hub that people won't hesitate to make part of their journey.

Unstaffed, unplanned
Toby went on to explain that "In staffed stations, IoT is all about giving information to the staff so that they can manually intervene effectively, but there are more than 1,000 unstaffed stations in the UK that can benefit even more from smart data.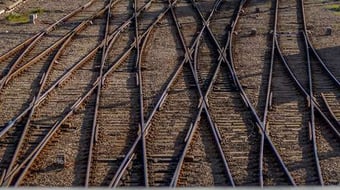 "The example I always take is Whitby. In the summer, it's packed with people holidaying, going to the seaside for fish and chips. In the winter, the station is empty. The cleaning schedule does not change with the season, meaning that the station gets cleaned as often in the summer when it is crammed with people, as it does in the winter when you are pressed to find someone waiting for a train.
"This surely cannot be the best use of resources - you may well want a cleaner in the station twice a day in Summer, and just once a week in Winter. With IoT data on actual footfall over the year, you can make an informed decision about when the station needs to be cleaned."
Toby added: "But the key point here is the flexibility that live data gives you. If Whitby station is remarkably busy on a winter's day, even though you have reduced the number of regular cleans to once a week you can still react to the situation despite there being no staff on hand."
Let there be light
Lighting plays a vital role in passenger safety. The correct lighting levels allow customers to confidently travel through a station with minimised risk of an incident. Light sensors, also known as Lux sensors, are used to measure the illuminance of light, for safety reasons, but also for general ambience of the station environment.
"If one light bulb goes out it might not be a problem," Toby said, "but if two go out it can create a shady spot which is unsafe for a number of reasons. Someone may trip if they cannot see where they are going, or at the very least feel vulnerable. The power could even go out entirely and many passengers would not know where, or how, to contact the help desk in such an incident.
"Even if their journey passes without incident, a dark station can completely colour a passenger's experience, making them feel unsafe and anxious. The ability to immediately detect these problems and send a maintenance team out to fix it is invaluable," Toby added.
Making the best use of data
To get the best value out of making a station smart, it is critical that the data gathered is all going to a central database or analytics platform. Toby explained that "Creating a smart station isn't only about using the sensors to gather data, it's what you do with the data and how you handle it that is just as important.
"Regardless of whether you are collecting data on bathroom usage, lux levels or crowding, this data can't be siloed or separated off: it needs to all come together on the same platform, along with your other data, to provide real value. To improve your operations, you need a holistic view and to be able to compare data sets with each other."
He added that, "The long-term trends you pull out will be key to this. After the dust has settled from a busy day, you can view your crowd flows, or check your bathroom usage against this and tomorrow, you can try a novel approach and see how that impacts on the data.
"Continuous oversight of even unstaffed stations would not be possible without IoT, and the returns on investment are not to be ignored.
"There is a more than compelling case for rail operators looking to improve the passenger experience to seriously consider this technology."
To find out more...
Visit our Rail Page for articles about how we are helping Train Operators prepare for rail reform.