Safe & legal logbooks are the bedrock of any compliance regime and are filled out for hundreds of specific purposes by most employees on a daily basis. But this is an expensive, people intense process that is difficult to manage, open to misinterpretation and full of easy to ignore processes. Consequently, measurement and reporting is difficult, as is the validation of compliance.
In short, this is a system that your good results exist in spite of, rather than by design.
But there is another way. A smart, digitised logbooks solution can provide enhanced, agile and constantly monitored processes and enable you to show continuous compliance with safe & legal requirements. Through works management and data gathering mpro5 can improve productivity, generate cost savings and mitigate business risk. Ultimately, this will coalesce in an elevated customer experience.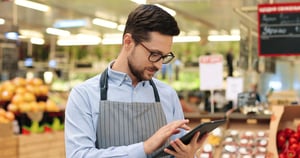 Creating a memorable and exceptional experience
If you are reading this article, there's a good chance that you spend much of your time working towards creating a memorable and exceptional customer experience. Retail is a market full of competition, and it's the quality of the shopping journey more than anything else that makes your business stand out from the competition.
To deliver this, your foundations have to be solid, and that's why compliance is crucial to your efforts. Getting your safe & legal processes right, and being able to demonstrate these, allows you to build trust with your customers and keep them and your teams safe.
Wrestle back control
You may well be burdened with a mixture of traditional paper logbooks and databases or legacy systems that manage your analytics and reporting. This disconnect between the point of data capture and your back-office results in double data entry, mistakes and time-consuming busy-work.
Logbooks can be backdated, filled in incorrectly or forgotten about altogether. Your ground teams are always busy and filling them out is not always convenient in the bustling retail environment.
But the fundamental issue with this system is the lack of visibility and control. Few people in store have any easy oversight of operations, reporting is slow and audits can become incredibly stressful as managers do not have a clear idea of exactly how they will perform.
The prospect of remodelling such a complex and business critical process, regardless of how ineffective it might be, can appear daunting. Compliance can often feel like it controls your operations, but with a digital solution you can wrestle back control and leverage this data to change processes for the better.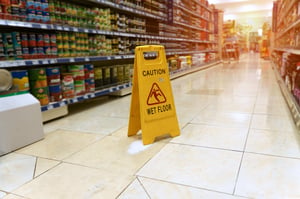 Development to adoption
We've spent the past decade working with one of the world's largest supermarkets and some of Britain's biggest retailers on just such a solution, implementing a fully digital works management system that handles all safe and legal processes, guiding teams through each step and gathering data that can be analysed for invaluable insight and to improve operations.
Working closely with our clients, we have gradually implemented tailored workflows, smart data gathering and dynamic dashboards and reporting. From development to adoption and refinement, we can bring extensive knowledge and learning from our work with these clients to you in our offering.
Our clients have told us that they can now spot trends, identify pain points and change cultural behaviour, while also massively increasing efficiency. Compliance is now a proactive process of improvement, rather than a passive burden.
One of the world's largest retailers and our oldest retail client, were able to streamline their processes to such a large extent that they have reduced the number of daily checks carried out by 63%.
Drive productivity gains and cost savings
This control over your safe & legal regime comes from dynamic data that drives change in the areas that really matter, fostering a culture that is empowered to evolve with minimal friction. Custom dashboards can be made for every department that show relevant and real-time information on compliance, allowing you to react to issues before they become more serious and to easily see the full picture at a press of a button.
Cutting down on duplicated checks and streamlining workflows will create substantial increases in efficiency. As mentioned previously, one of the world's largest retailers was able to reduce checks by 63% through adopting mpro5. Our platform is used for over 160 workflows, across 3,000 sites and by 130,000 employees every day.
Your back-office teams will also be able to focus on more important tasks because the data they need will be in the correct format, confirmed with date and time stamps, for easy reporting that can be more detailed than was possible before.
Clear workflows, irrefutable data, a single source of the truth and easy reporting. Digitising will save you money and time that you can spend on honing your operations and delivering the customer experience that you want to be known for.