The Facilities Management market is growing. Despite the pressures of inflation, hybrid working and staff shortages, the market is worth $68 billion in the UK alone, and is expected to grow by 1.65% in the next 5 years.
The managers in charge of this growth are already becoming smarter about data, and market trends suggest that digital tools for operational management and analysis will be the drivers of successful companies in this highly competitive space.
But what do facilities managers do? If you'd like to understand the importance of this role, and what software solutions are available to support it, this is the article for you.
What does a facilities manager do?
IFMA (International Facility Management Association), defines Facilities Managers as follows:

"Facility or facilities management (FM) is a profession dedicated to supporting people. It ensures the functionality, comfort, safety, sustainability and efficiency of the built environment - the buildings we live and work in and their surrounding infrastructure... Facility managers are the people who make sure we have the safest and best experience possible, by coordinating the processes that make the built environment succeed." IFMA
In short, facilities managers are responsible for coordinating the services that maintain our buildings and make them productive, comfortable, safe and pleasant spaces.
For more details, here is a list of responsibilities that facilities managers typically have:
Coordinating all installations, refurbishments and maintenance for assets (telecoms, HVAC, electrical)

Asset maintenance

Inventory management (equipment, supplies, employee uniforms)

Building fabric inspections and maintenance

Manage and supervise all facilities staff (cleaners, technicians, groundskeepers, security and third-party contractors)

Space allocation

Contract and customer management

Compliance management and insurance plans

Procurement

Analysis, reporting and forecasting

Workforce management

Cost control

Service delivery
That's a lot of responsibilities – facilities managers have to be hard working, flexible and multi-disciplined to get the job done.
Facilities Management Solutions
It wouldn't be possible to spin all these plates using traditional paper processes. The FM industry knows that digital is the future – data analytics is now a core part of the value proposition, and managers need software to automate scheduling, reporting and compliance.
How can facilities management software help?
The facilities management market has never been tougher, with tighter budgets, increasing compliance complexity and greater expectations in service, you're expected to do more with less.
Thankfully, facilities management software has been designed to help you do just that. The right platform helps to ensure you stay on track with compliance and win new contracts through excellent service.
It's possible to digitalise almost any process, marrying mobile field service management with a platform that makes sense of the data so that you stay in control regardless of how remote operations are.
Here are just some of the things facilities management software can help you with:
Asset monitoring, a live register, life-cycle analysis and maintenance scheduling

Paperless evidence for compliance, staff absences, costs and reporting

Automated corrective actions, task scheduling, service requests and reporting

Job scheduling and works coordination

Third-party contractor management

Data visualisation for internal use and external clients

Document distribution and signatures

Compliance reporting, data gathering and alerting
Facilities management software in action
The Coventry and Warwickshire Partnership Trust is a great example of the advantages of facilities software. Previously, the trust had an overburdened maintenance helpdesk to manage their third-party contractors and works.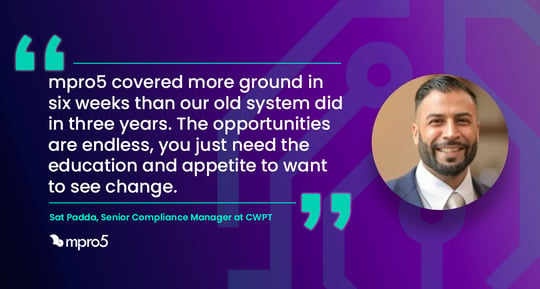 Since using mpro5 to automate task scheduling, job chasing and invoicing, the facilities team has been able to cut the helpdesk from nine staff to just two. This has freed up substantial departmental resource to focus on evaluating the quality of work.
Double data entry has been removed, with contractors using the mpro5 app to prove their work and send data straight to the cloud. Reporting is also far easier with a structured database and straightforward reporting functions.
Now that the system has been well-established, the trust is gradually bringing in more and more functions to the platform, including logistics jobs and fire door checks.
Try facilities management software today
We are always happy We believe our job at mpro5 is to share our advice and expertise on facilities management software, even if we are not the right solution for your business. To find out whether we could help you, you can book a quick discovery meeting call with one of our sector directors using the button below.  
By understanding your needs and desired outcomes, we can advise the best solution for your business. Book today for more information.
You might like...
Here are some other blogs you may find helpful:
What's next for Total Facilities Management?
Tapping into your data is the secret to innovation
Digitalisation will transform the way you work
The benefits of facilities management software