This new mpro5 release, Ring-Tailed Lemur, comes with some really exciting features. The headline feature is the ability to capture information from Bluetooth Low Energy devices. Our focus has been on connecting to the latest range of BLE temperature probes for easier mpro5 temperature logbooks. In addition, our development team have worked hard to improve app robustness, usability and speed. If you have any questions about any of these new features, please email our Head of Development, Thomas England, using thomas.england@mpro5.com.
BLUETOOTH LOW ENERGY DEVICES
This is a brand new feature for connecting the mpro5 app to Bluetooth Low Energy devices. Our particular focus for this has been for a new range of BLE temperature probes to allow you to take readings using a digital thermometer and record the readings within mpro5. Temperature Logbooks have never been this easy!
Connect mpro5 devices such as BLE temperature probes.

Let the device capture readings/information like temperature of chicken.

mpro5 automatically populates the reading within your workflow.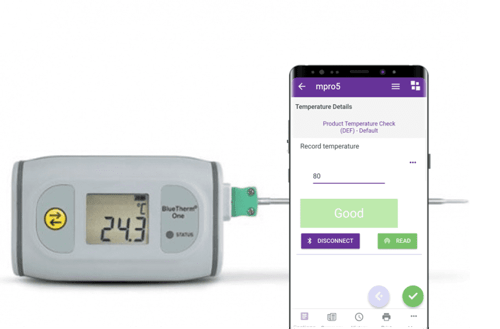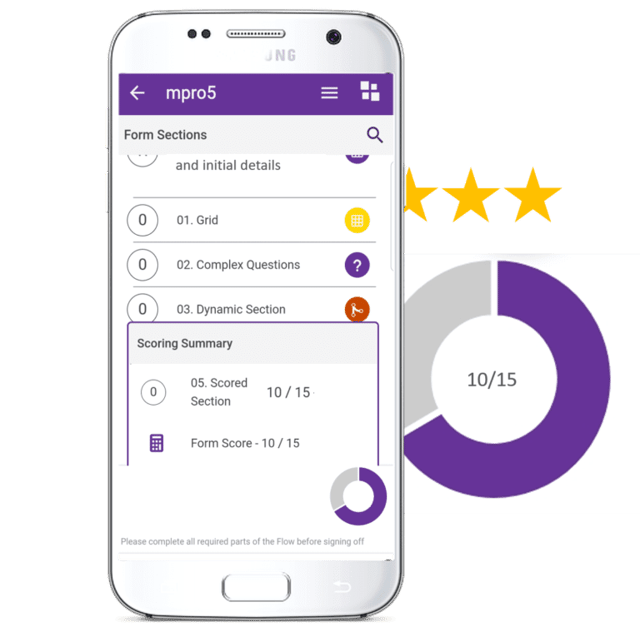 CUSTOM SCALESAND SCORING UNITS
Lots of mpro5 flows are built with scoring enabled. In the background, mpro5 flows cleverly calculate the score for particular questions, sections and flows overall. But, we've found that not all questions have requirements for simple, percentage scoring.. therefore:
Scoring can now be set to a scale, instead of a percentage.

You can now score flows with configurable units such as star ratings.



BOUNDARIES AND VISUAL INDICATORS
mpro5 already had flow "boundaries": limits within which the flow must score to achieve a pass or fail. Boundaries can have colours that pull through to your reports. Now, we can add boundaries to your individual number-based questions…
mpro5 can show a colour or text with your answer, based on your answer.

For example, green text with "pass" might show.

"Pass" (or the wording you choose) is then stored against that question.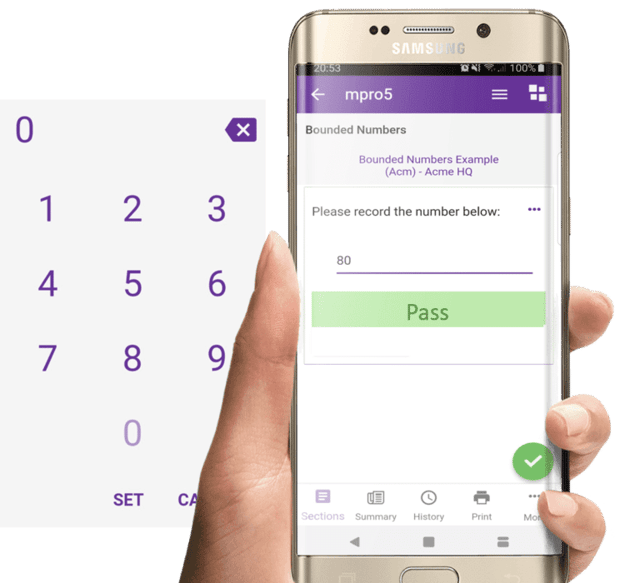 SUMMARIES, HISTORY & CONFIGURABLE HEADINGS
Notes and Next steps pop up after certain answers to allow for further information. For example, if you select "Yes" to "was there an issue?", mpro5 can prompt to enter any notes, photos etc. This new mpro5 release has further enhancements to this popular feature…
Notes and Next Steps now appear on the flow's summary and history.

New ability to pre-set additional text (such as instructions) at the top of the NNS screen.



PHOTOS AND ANSWER SEARCH
Flow Summary and Flow History are really useful to get an overview of the questions completed on a workflow. We've given these features some extra improvements for this release to make sure you can see everything you need.
Question answers can now be searched.

Photos captured during the flow now show.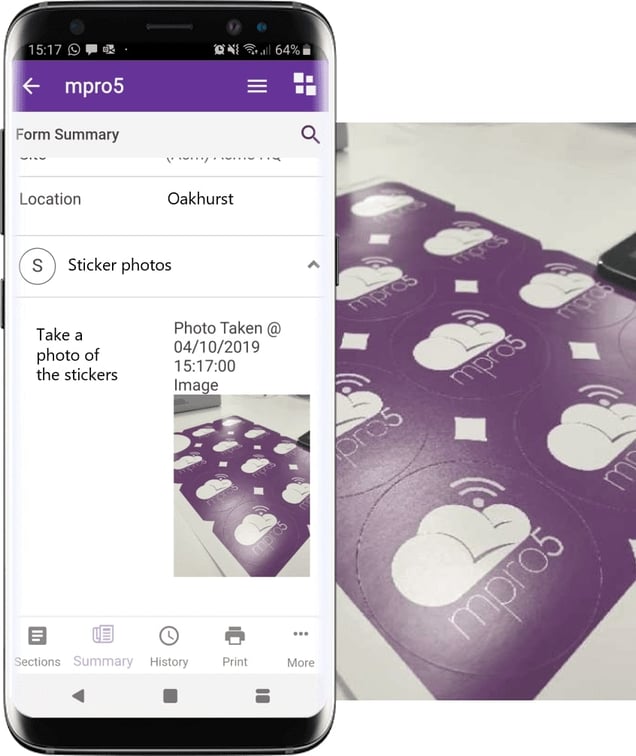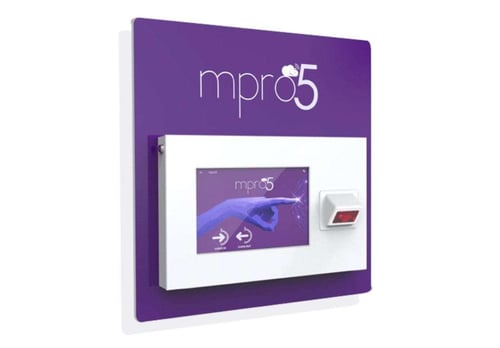 NFC CLOCK-IN AND CLOCK-OUT
Those using mpro5 with Time and Attendance already have a number of choices for clocking in and out. These are pin code, facial recognition and finger print authentication. Now, there's a new option…
Clock in and out with NFC (Near Field Communication).

A simple tap of an mpro5 tag confirms attendance.



IMPROVED KEYBOARD AND MORE
We're always working to improve the mpro5 app in general to increase reliability and usability. Here are some of the little changes we have made…
The Number Scroller control type performs better after some re-implementation.

Keyboards now behave more reliably when focusing on input boxes.

Language pack now resets more reliably.