The quick service restaurant (QSR) market is fierce. Customers expect quality food and great service at low prices. And to stay competitive, businesses must work with margins that are paper thin and constantly being squeezed.
This leaves little room for financial waste and inefficiency. Any processes or practices that cost your QSR avoidable time and expense – or potentially damage your brand – must be streamlined or removed completely.
But with so many moving parts in your QSR, how do you know which specific processes to focus on? In our experience, the two areas with the most potential for problems – and the least visibility for managers – are food safety and quality.
Are your food safety processes worth their salt?
For most QSRs, the issue isn't a lack of food safety processes. There are strict procedures for everything from food handling and hand hygiene to fridge temperatures and allergen management.
The problem is knowing how meticulously those processes are being followed by staff on the ground, and getting a reliable picture of food safety compliance at any given time.

Checklists and logbooks provide a guide and record for food safety tasks. But since these are paper based, they rely on staff being diligent enough to keep everything up to date at all times.
This is easier said than done. QSRs are busy places where things happen at speed. Filling out checklists and logbooks by hand takes time. And when there's a long list of orders to complete, paperwork can fall to the bottom of the to-do list.
Of course, it only takes one dropped ball to put a customer's health or their life at risk.
And that single mistake can quickly spiral into a social-media storm and legal dispute – all of which can damage your brand's reputation and eat into those already-fragile profit margins.
Ultimately, the potential risks to customers is too strong to leave this stuff to chance, when the consequences can be severe and sometimes life-changing.
To prevent this, you need visibility, consistency and control over food safety processes. But this is something paper checklists and logbooks simply can't provide.
Does your food quality cut the mustard?
To build customer loyalty and positive brand associations, diners need a high-quality, predictable experience every time they visit your QSR.

That means, for example, that their favourite caesar salad box must always be the same. It must look the same, be the same size, and have the same star ingredients. And it must have the same great taste they've come to know and love.
QSRs have strict, carefully developed processes to ensure this consistency of quality and appearance. But again, as with food safety, they have little control or visibility over how well their staff follow those procedures.
In the rush of a busy day, a batch of salad boxes might be sold without the caesar dressing inside. This alone may not seem like a big deal, but it's the kind of thing customers are highly sensitive to.
If even just a handful of people share their no-caesar salad experience on social media, it could create a swell of negative sentiment around your brand and potentially put people off buying from you in future.
Again, with such fine profit margins, losing existing and potential customers over avoidable quality errors is something few QSRs can afford.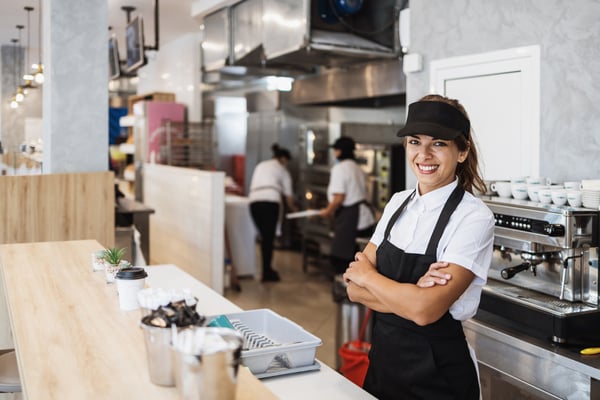 Consistent quality and safety with no extra staff effort
To make sure your carefully planned food safety and quality processes are followed properly, you need to minimise the potential for human error and oversight.
How? Well, the most effective way, quite simply, is to tear up your paper checklists and logbooks and replace them with a single, digital audit for all aspects of your food offering.
With a smart workflow tool like mpro5, you can create a central hub for all your food safety and quality data. And you can digitalise your checklists and logbooks – eliminating the need for unreliable, time-consuming paper records.
Simple, transparent and mobile
Your employees can tick off their tasks easily via a mobile app, with mandatory actions to ensure key steps are completed (for example, ingredient lists and allergen labelling for compliance with Natasha's law).
All actions are timestamped and linked to a user, to confirm completion and create digital paper trails in the event of complaints or legal disputes. It also increases accountability among staff and reduces the chance of corners being cut.
Users can also upload photos and videos to verify that critical tasks have been completed. If you want to know, for instance, that all your sandwiches are correctly labelled for allergens – and that your caesar salads do actually live up to their name – you can add a requirement for visual proof.
Free up staff by automating repetitive tasks
For regular, manual tasks – like checking fridge temperatures – mpro5 can hook up with Bluetooth sensors to remove the need for human input.
Temperatures can be taken continuously and automatically. And you can set up automatic alerts and remedial actions to be triggered if readings exceed regulation levels – minimising the risk and cost of food being spoiled.
Those corrective actions ensure that issues are dealt with immediately. And, crucially, that you get notified when everything is completed – so you don't need to chase anyone, and the feedback loop is closed.
It also means staff no longer have to take time out of their busy days for repetitive procedures, or to track down the right people to solve certain problems. They're free instead to focus on the tasks where they can add the most value.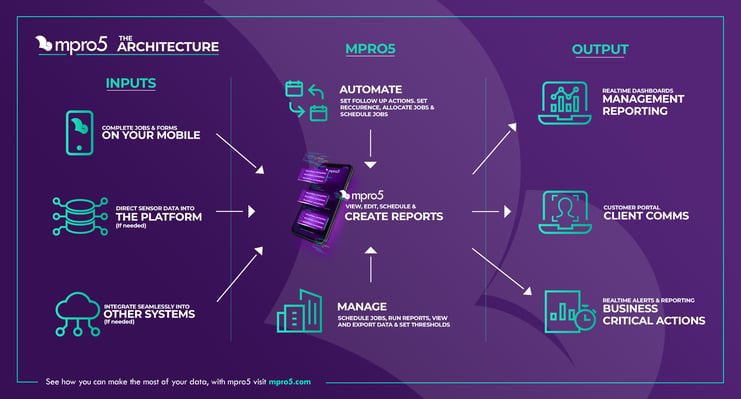 Rich, continuous data for better business intelligence
With mpro5, your food quality and safety data feeds into one central hub, which you can access 24/7 from the cloud.
This means head office – or anyone who needs to – can gain a clear, reliable picture of compliance across the business at any given moment. Something that simply isn't possible with paper records and logbooks.
Managers can also create personalised dashboards to zoom in on the data that matters most to them. With that data, they can then identify trends, inefficiencies and processes that need tightening up. And they can use this insight, for example, to identify training needs or review ways of working.
Ultimately, a digital workflow helps you save time and money by working smarter – without having to work harder. And in such a competitive market, QSRs that use data smartly hold all the cards.