The economic climate in 2022 is severe. With war in Ukraine causing food shortages and energy insecurity, inflation at its highest for 40 years, strained supply lines and full employment (particularly in the UK), businesses face challenges on many fronts.
However, technological advances in the past decade, often described as 'Industry 4.0', have made it significantly easier for businesses to increase productivity and efficiency. Here are five examples of technology that can help businesses to thrive in the current economy.
1. Automation
The simple fact is the UK does not have enough human beings to do all the jobs that need doing. Whether it's cleaners, drivers, nurses or factory workers, businesses across the board are struggling to fill roles.
Automation can go some way towards plugging the gap. It can eliminate the paperwork burden, improve communication to prevent duplication of effort and provide assurance to managers on the ground.
Automation in FM
With cleaning, for example, time spent cleaning is only half the story. Proving that cleaning has been performed to audit standards accounts for a huge amount of cleaners' time. With a workflow automation platform on their phones, cleaners' attendance is validated by real-time proof of presence scans and all they need to do is click the 'job done' button. No form filling required.
When combined with smart sensors, it enables businesses to focus resources where they're most needed. In Facilities Management, for example, it's freeing businesses to move from a rigid system of scheduled cleans to reactive cleaning in which areas are cleaned according to need.
Automation unlocks these benefits in any industry, particularly those where demand can be fluid. It helps businesses reduce employee workloads, streamline processes and optimise performance and productivity across the board.
According to Deloitte, around a third of US manufacturers are supplementing their workforce with automation and 64% say it's helping them fill open jobs. 
2. Hyper-automation
Hyper-automation takes automation a step further. Defined by Gartner as "a business-driven, disciplined approach that organisations use to rapidly identify, vet and automate as many business and IT processes as possible", hyper-automation involves the orchestrated use of multiple technologies, tools or platforms, such as artificial intelligence (AI), machine learning (ML) and robotic process automation (RPA) to analyse and manage business processes.
There are virtually no limits to where hyper-automation can be deployed, from banking and insurance to health and the life sciences. Real-world applications eliminating the need for human intervention include understanding documents using OCR (Optical Character Recognition), forecasting stocks of given products combined with automated restocking and interpreting emails using NLP (Natural Language Processing).
Hyper-automation algorithms can analyse huge quantities of data, provide in-depth observations and relationships between background processes that would otherwise be missed. These can help businesses fully understand their business processes and improve on them.
3. Business intelligence for informed decision-making
Instead of top teams being paralysed by inaction because they lack the confidence to make decisions in a vacuum, workflow automation tools capture valuable data that enables them to make informed decisions backed by empirical evidence. These tools can work with both structured and unstructured data to provide insights into optimisation and improvement opportunities.
4. Digital maintenance systems
Gone are the days when jobs could be issued to an engineer with a scribbled instruction on a slip of paper giving the sparsest of information. Purely paper-based processes mean there's no record of a job ever having been issued, let alone completed, no way to manage performance and zero evidence of compliance with any statutory obligations.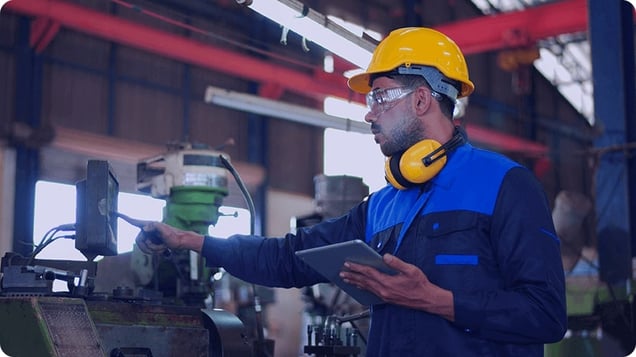 In contrast, a workflow automation platform allows businesses to feed accurate, specific information about the maintenance required to the engineer. Relevant supporting information on the asset and any parts can be attached to a workflow.
Instead of wasting precious time writing reports, the engineer can quickly record any remedial action taken on a works management mobile app. In this way, the job itself and the data capture are intrinsically linked and fed into a central database in near real-time, giving full visibility.
Importantly, should something fail, the software will automatically turn the necessary remedial action into a job and send it to the right person to fix it, with the action taken recorded on a mobile app. The job's status can then be tracked – and automatically chased - until the issue is satisfactorily resolved.
Many production environments operate around the clock and every minute of unplanned downtime can be costly. A works management system provides timely, accurate data to support preventative maintenance planning and minimise downtime.
Another way in which automation technology can save hard-pressed maintenance teams time is by flagging when a service is due close to a repair appointment so both can be tackled at the same time, saving a return visit.
5. Dynamic scheduling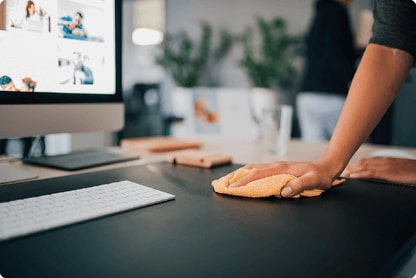 Dynamic scheduling combines the power of digitalisation with more efficient processes and enables the delivery of a true output-based specification. It involves the intelligent deployment of works management software combined with a network of Internet of Things (IoT) sensors.
This concept has been commercially proven in the facilities management sector where it is driving the switch from rigid, scheduled cleaning to reactive, demand-driven, cleaning. It's all about directing limited resources to the areas they're needed most and the principle can be applied to almost any task in any industry.
Sensors can flag when bins are full and need emptying, when public toilets are dirty and need cleaning, or when bulbs in a car park have blown and need replacing. Taking a wider view, rather than pest control companies employing operatives to drive around the country checking if an animal has been captured in a trap, sensors can alert them that a trap needs emptying. Door mats, hospital ward curtains, consumables monitoring, temperature checks and lux levels can all be optimised according to need, rather than working to a fixed schedule.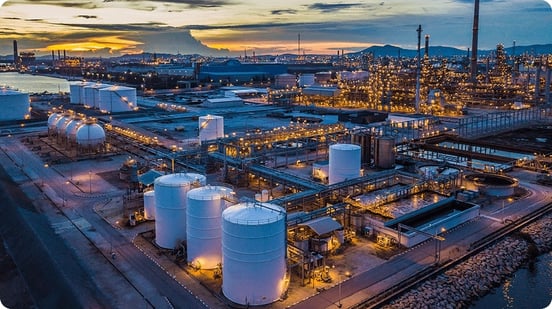 Industry 4.0
Expect to hear a lot more about digitalisation, IoT, automation and hyper-automation. Alongside smart manufacturing, cyber-physical systems (CPS), smart factories, cognitive computing and AI, they're among the technologies manufacturers may implement to survive the multiple challenges they currently face.