PASSENGER RAILWAY MANAGEMENT SOFTWARE FOR

EFFORTLESS COMPLIANCE
Implement your KPIs and compliance with confidence.
EXCEED SERVICE STANDARDS

,

DRIVE PRODUCTIVITY AND BOOST COST EFFICIENCY WITH SMART STATIONS
We're dedicated to helping you meet KPIs and compliance in the passenger railway industry, backed-up by our industry-leading experience in the UK.
Following recent government reforms, the UK's passenger rail industry has been drastically changed. The Department for Transport now awards profit to passenger service operators when they hit customer experience performance targets.
mpro5 helps to capture these financial incentives for British rail operators and it can manage similar processes for you, allowing you to track performance and drive productivity and cost savings.
OUR IMPACT IN

PASSENGER RAIL




We count some of the United Kingdom's leading passenger service operators as valued mpro5 clients, including Northern Trains, Chiltern Railways and Network Rail. But they're not the only ones - as a fully configurable solution, we assist some of the world's biggest brands, in multiple industries, as operations and compliance partners.
FEATURED

CASE STUDY



We're proud to have helped Northern Trains develop a cutting-edge solution to meet the new Service Quality Regimes.
We developed a fully digital, smart compliance platform built around their business that makes implementing processes, auditing them and proving compliance efficient, effortless and cost-effective.

STATIONS
MANAGED VIA MPRO5
INCREASED
PRODUCTIVITY GAINS
HOW WE
CAN HELP
We believe in building long-term partnerships that support your business at every stage of growth. Working with a Software-as-a-Service subscription model, we'll help you drive success with agile solutions that match your changing needs. We can help you master the your KPIs and compliance, but supporting your transition to a digitized system is only the beginning.
mpro5 can

help you achieve:
Using our smart rail management software, we helped one passenger service operator achieve 25% productivity gains — and you could too.
We break down data silos and empower teams to deliver consistent, outstanding customer service across multiple sites and to millions of passengers.
Our IoT sensors monitor key systems and services to ensure, and easily demonstrate, compliance and Health and Safety requirements.
Our mpro5 app and network of IoT sensors work in real-time to alert you on the condition of assets and the areas that need attention — all at the press of a button.
Our rail management software is agile and fully configurable — evolving with your business. As your processes change, we'll alter your mpro5 platform at no additional cost.
Get continuous visibility of your service and quality levels, to make data-driven decisions and address issues before they become serious problems.
Alongside boosting team efficiency and productivity, mpro5 lowers costs by reducing man hours, administration time and printing expenses.
Data collected on assets, including their lifespan and condition, lets you reduce costs and avoid major faults with proactive maintenance plans.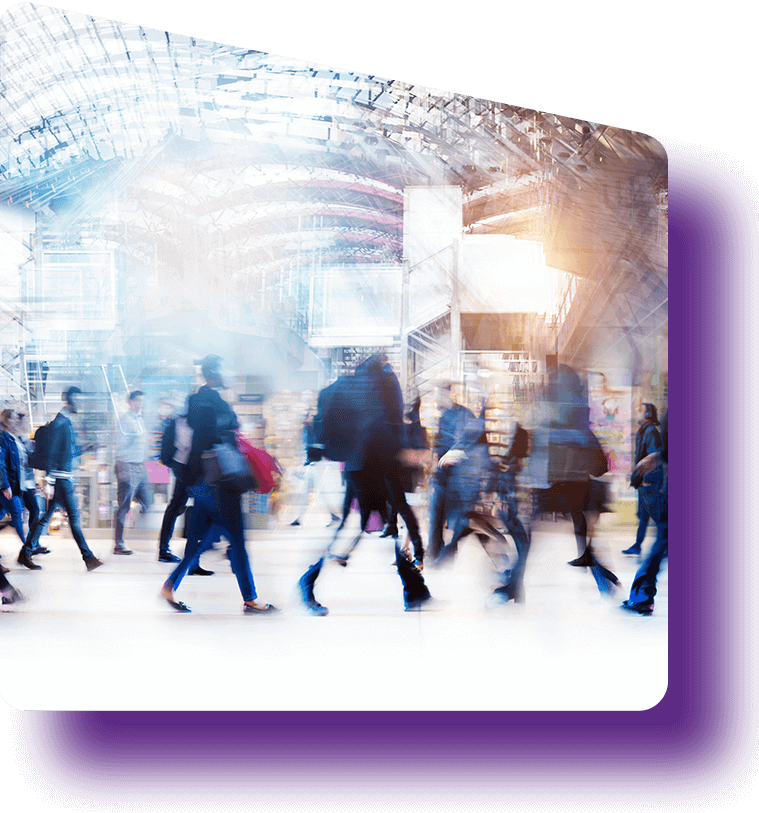 DO YOU HAVE

UNIQUE REQUIREMENTS?
While passenger rail companies often share common goals and processes, we know that every business is unique. That's why mpro5 is fully configurable, and why we develop tailor-made solutions for every client — even if they're in the same industry.
If you're unsure if we can help, get in touch to discuss your requirements and our team will confirm whether mpro5 is a good fit for your business. "mpro5 delivers effortless compliance with our SQ (Service Quality) Regime with backup, service and support that never lets us down. Through Covid, changes in routines and schedules and even staffing challenges, mpro5 are always there on the end of the phone to help us through." "
mpro5 has brought simplicity to what was an onerous auditing process, affording the opportunity to quickly and accurately check standards against performance output. ​
Strong graphical information enables us to focus on the required areas for improvement without having to trawl through large amounts of data. The potential for the mpro5, Samsung and Chiltern Rail partnership seem endless.
"
COMPLIANCE

MADE EASY
Meeting your performance targets and compliance, and being able to evidence it, is critical. As seasoned partners to leading passenger service operators in the UK, mpro5 is packed with features that make it possible to implement, and indisputably prove, continuous compliance in a matter of minutes — safeguarding and optimising your KPIs and compliance.
Checks, reports and risk assessments that ensure compliance
Built-in tools to ensure safety, security and ease of tracking locations
Reports and alerts for data-driven decision making
Live reporting, scheduled task workflows and real-time monitoring
Say goodbye to unreliable paperwork and double data entry
Automate task scheduling and track completion with built-in protocol compliance
Proof of patrols, cleaning and mandated COVID-19 checklists
MPRO5 INTEGRATES WITH
YOUR EXISTING TOOLS
Updating to a specialized passenger railway management software like mpro5 doesn't mean saying goodbye to your tried-and-trusted tools. Our open API lets us integrate with your existing tools and legacy systems to create one source of truth on the mpro5 platform. We also integrate with Single Sign On systems and IoT sensors for the ultimate in efficiency. We'll work with your IT team to identify and set up your desired integrations to create a unified system that helps you work smarter, not harder.
Q:

What if compliance legislation changes? Will mpro5 still help me maintain compliance?

A:

mpro5 can be configured to help you maintain continuous compliance regardless of how fluid mandates and standards are. As a valued client, we'll update your platform to meet any new requirements at no extra charge.
Q:

My business processes are unique and have been developed through hard-earned experience. Can mpro5 really provide a digitized alternative that's just as effective?

A:

mpro5 is fully configurable and can be built around almost any business. Contact us to discuss your needs and we'll show you how mpro5 can help!
Q:

I don't see my software listed under possible integrations. Can mpro5 integrate with it?

A:

mpro5 uses an open API. This makes it easy to integrate with a wide range of industry-specialist software. If you don't see your desired software listed, contact us and we'll confirm whether an integration exists or can be developed.
Q:

How long will it take before mpro5 works for my business?

A:

You can be up and running with your mpro5 app and website in as few as 30 days.
LEARN MORE

ABOUT
MPRO5 IN RAIL
GET IN TOUCH

WITH OUR TEAM
HOW CAN WE HELP?
Please select how we can help solve your problems below, or fill in the inquiry form to the left and an industry expert will contact you ASAP to discuss how we can help.