Features of mpro5's Reporting and Dashboards
Dashboards
Making data-driven decisions is an undeniable necessity for any business. Your bespoke Power BI dashboard helps you visualize and understand your operations in real time through dynamic data driven graphics.
Dashboards are a great way to present and consolidate information captured by field teams and readings from IoT sensors. As work orders are scheduled and completed, they sync to the cloud and can populate your own bespoke management dashboards. This real time information enables you to identify issues and respond quickly and appropriately.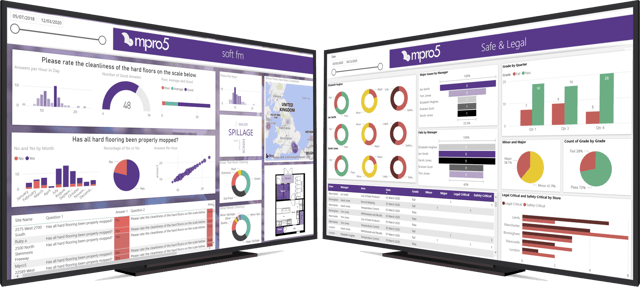 Industries that utilize mpro5's Alerts and Reports
Whatever functions and features you invest in as part of your mpro5 platform, you'll be gathering data that holds enormous value. Through power BI dashboards and real-time reporting and alerts, you can harness this data to make strategic decisions that move the needle.
Once you start using your mpro5 platform, we will host scoping sessions to understand what metrics matter to your organization and how we can configure your bespoke reports to best display this in a meaningful way.
The platform operates silently in the background, so your management teams can spend their time managing other aspects of their role, such as maximizing their team's time and attendance, ensuring full health and safety compliance and even looking into solutions to streamline processes further.
Through the mpro5 platform, you will have access to your reports 24 hours a day, seven days a week, meaning that the most up-to-date information is just a simple click away. mpro5 hosts these reports on the cloud, so all storage areas can be put to better use, further increasing your company's ROI.
Implementing your Power BI Automation
We help countless companies implement power BI automation on their already-running mpro5 platforms, hearing how the technology has saved countless hours and allowed them to make considerable savings.
When you schedule a demonstration with us, your consultant will showcase precisely how your reporting can look, and if you are an existing customer, we can use data already gathered by the platform to start creating your dashboards. Once we have ascertained how you will best benefit from our this, the team will deploy their optimization so that you can begin utilizing the reporting software as quickly as possible.
But our relationship doesn't end there. Through our subscription service, we can continue to adapt your platform and power BI reports as your business evolves. And should you come across any issues, our support team will be on hand to help.