When you visit your favorite quick service restaurant (QSR), nothing you see – from the moment you enter to the moment you leave – is there by accident.
From posters and promo boards to counter displays and fridge layouts, every little detail is the result of meticulous research, planning and execution.
That precision placement and arrangement of products is part of a marketing practice called merchandising. And it's all done with one aim in mind: maximizing sales and profit.
What is merchandising in QSR?
In food retail, merchandising covers everything that could potentially grab a customer's attention and persuade them to buy your products.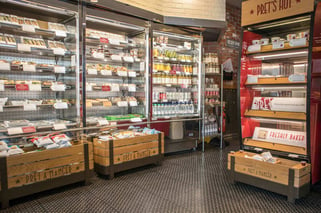 Marketing teams send highly detailed merchandising plans and guidelines to their staff on the ground, giving precise instructions for every item involved in product promotion. This includes:
A-boards

: The outdoor signs used to attract passers-by. These need to be checked and updated daily for morning and afternoon offers to ensure they show the right products at the right times.

Window and wall posters

: Used to promote products, deals and other brand messages. Placing them at the correct height and alignment is vital. And they must be checked and swapped regularly to reflect daily and seasonal changes to menus, promotions and messaging.

Food displays

: Everything from sandwich chillers and drinks fridges to hot food shelves and counter-top cake stands.




Marketing teams create detailed diagrams – known as planograms – to show exactly which products should be displayed where, in which quantity, and at which times of day, to maximize sales.
Behind-counter menus and displays

: The menus, prices and posters you see behind the counter. All products and their prices must be correct, and up-to-date deals and posters need to be displayed.

Point of sale (POS)

: The location where customers make their purchases. Popular grab-and-go items are usually found here to increase the value of sales, as well as promotional marketing tools like loyalty cards to encourage return visits.

Staff uniforms

: Staff t-shirts, aprons and other uniform items often include product or brand marketing messages. These need to be kept up to date to reflect current best-sellers and promotional offers.
How do you know your plans are being followed?
There's no reliable way of knowing how well your merchandising plans and planograms are being executed at any given time.
Once the plans and guidelines have been sent out, it's a case of trusting staff to read, absorb and follow the instructions to the best of their ability and training.
There may be notices, reminders and logbooks on site for some key merchandising tasks. But these aren't always reliable. And as with all analog processes, there's always room for human error.
Of course, nobody sets out to make mistakes at work. Everyone wants to do their best. But it's a fact that QSR is a fast-moving business with a high turnover of staff. And in that environment, things can and do get missed.
When minor mix-ups mean major headaches
It's also true that even seemingly small oversights can have a big financial impact.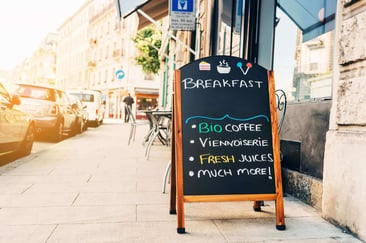 Imagine, for instance, that it's the run-up to Christmas for a large coffee chain. Their festive baguette is expected to be a big seller. And as part of the merchandising plan, the marketing team has sent out a set of window posters to be displayed from November onwards.
Somewhere along the line, however, the chain's largest site misses the memo about the posters. So, for the whole festive season, the window display is all wrong – and passers-by have no idea the Christmas baguette is even on sale.
It's only later, when head office find themselves scratching their heads at the underwhelming sales figures, that anyone investigates and discovers what's gone wrong. By then, it's already too late to put things right.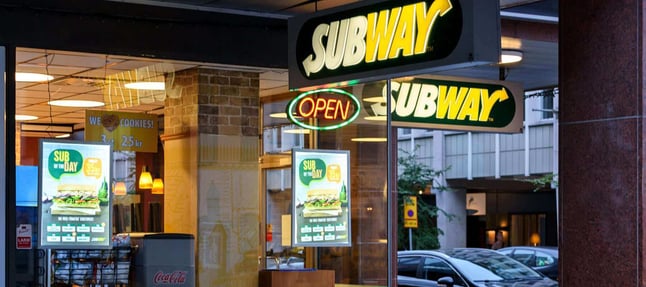 A smarter way to manage merchandising
The most effective way to remove errors and uncertainty from your merchandising efforts – and ensure your plans are followed to the letter – is to digitalize the entire process. From head office all the way through to your teams on the ground.
With a digital workflow tool like mpro5, you have a central, cloud-based hub for all your merchandising plans, planograms, checklists and tasks. And you can distribute them instantly to the people who need them, all at the tap of a button.
When you send your staff their merchandising documents, they can electronically sign to show they've received and understood them – removing any doubt from your side. And if they don't have all the supporting materials they need, such as posters, labels and flyers, they can quickly flag this through their mobile app.
Later, as they work through their tasks, they can digitally tick them off to confirm completion. All verified with dates and timestamps. They can even attach photos or videos to prove that key tasks have been completed correctly.
If you need to know, for instance, that your A-boards are being updated at 11am and 4pm each day, or that the almond croissants are being moved to a lower shelf every lunchtime, your staff can snap a quick picture to confirm.
Minimize uncertainty, Maximize sales
Using a smart workflow tool like mpro5 allows you to carry out continuous auditing of your merchandising activities – so nothing is left to chance.

Highly customizable dashboards allow you and your teams to zoom in on the data that matters most in your respective roles. A marketing director, for example, will have different priorities to a store manager, and will need different data to support them.
Equally, with all your data in a single cloud location – and interconnected with all your other departments – you can zoom out to see exactly what's happening across your business in real time, 24/7.
This allows you to identify problems and opportunities, as well as trends and patterns. If you notice, for instance, that a particular site is consistently slow in completing its tasks, it might be a sign that more staff or extra training is needed.
After some time using a digital workflow for merchandising, you should find that fewer mistakes are happening. That your people are working more efficiently. And, above all, that you're making more sales.
Find out more...
Visit our QSR Page for more content