I'm guessing a lack of information isn't a problem for you as a retailer. It's likely that you're positively swamped by figures coming at you from all directions. Footfall into your washrooms, stocks of consumables, occupancy levels at any given time of day, the movement of customers around your stores, dwell times, ambient conditions, HVAC performance... I could go on.
No, the problem isn't a lack of data but, rather, a lack of insight. You need a system that pulls this vast volume of data from disparate sources into one place and makes sense of it all.
Paper, sensors and asset management systems
What do these things all have in common? The answer is simple: if they are all siloed, they aren't much use.
Inefficient and ineffectual
For example, track the journey of a single piece of data, let's say a food temperature check taken in the morning on a hot food counter. The check is performed, the employee fills in the logbook, the logbook is put in a filing cabinet, or maybe sent straight to the back-office. It might while away its days in the cabinet, or get punched into a database.
So what's the problem? For a start, does a piece of paper really prove anything – we all know that sometimes logbooks are not filled out correctly, and there's no proof that the check was done at the right time, or at all.
Secondly, this is a long journey from the first record to actually being stored electronically – double entering data is highly inefficient, not to mention the use of paper in the first place which is expensive and not environmentally friendly.
But the key issue with this process is true of any data that ends up in a discrete data silo: it tells your managers nothing – they don't really know if they are compliant until something goes wrong, an audit happens or they are asked to investigate an accident.
The only people with visibility of any of this data will be your analytics teams, if it's looked at all. It's just as likely to be dumped somewhere and forgotten.
Collecting this data means very little if you're not able to easily surface it.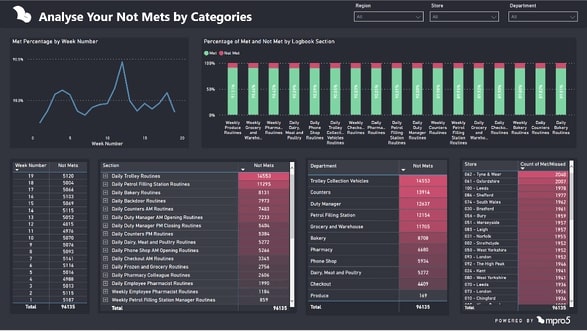 One source of the truth
So what's the answer? Something that ties all this data together, that makes sense of the chaos and surfaces the data as useful business information.
You need a works management and data aggregation platform that's flexible and configurable enough to bring in numerous pieces of information from multiple sources, structures it so it's actually useable and can be set up to automate some actions. Ideally a snazzy data visualization tool, like a real-time dashboard suite, will let you see what's going on even if you don't have a degree in statistics.
This platform acts as one source of the truth that can handle huge amounts of data from hundreds of logbooks, sensors, audit scores and more, instead of this valuable information disappearing into dead-end silos.
"Why is this important? Because when you have access to all your information in one place, you can spot trends, identify pain points and change cultural behaviour based on what's really going on in-store, rather than trusting to guesswork and gut feel. In short, it enables you to leverage the true value of the data you already collect."

Data Capture and Action
There are two reasons for choosing a works management and data aggregation platform rather than just a database:
Action when action is needed
With thousands of frontline employees able to access an app on their mobile devices, the right people receive real-time alerts when action is needed. Whether that's deploying additional staff to relieve overcrowded checkouts, replenishing soap and toilet paper in busy washrooms, restocking an empty trolley bay or clearing up a water spill caused by a leaky fridge, an efficient response time prevents small issues escalating into big problems.

Cut out paper
You can cut paper logbooks out of your life entirely (hooray!). Instead of having to fill in a logbook, which then gets manually typed up into your database or a spreadsheet, employees can use the app to send the data straight to the cloud, while also confirming they did the check, making the job and the data capture intrinsically linked.

No change without information
Data is the key that unlocks greater operational efficiencies and drives cultural change. The problem is retailers are overwhelmed with so much data it can seem impossible to make sense (much less time-savings) out of continuous information streams. So if you're sinking under a statistical tsunami, consider finding a software solution that can organize, explain and track your data.
In my next article, we'll talk about closing the feedback loop on remedial actions, and why being able to track this has substantial benefits.
Find out more...
Visit our Retail page for more content