Driving a train takes high levels of skill and concentration. And with passenger and public safety at stake on every journey, it carries a great deal of responsibility too.
The last thing drivers need is unnecessary admin and cumbersome paperwork to slow them down or break their focus. But that's exactly what they must deal with – on a much more regular basis than they might want.
What goes on with WONs and PONs?
Weekly and Periodical Operating Notices – known as WONs and PONs – are documents that drivers rely on to do their jobs safely.
WONs provide updates on safety-critical information for the week ahead. Known faults, speed limits, locations of engineering works and so on.
PONs, on the other hand, are bi-monthly. They contain more comprehensive safety notices and updates to rules and regulations.
To be clear, the WONs and PONs themselves are not the issue here – they're crucial for safety, and drivers accept reading them as part of the job.
The problem is how they're administered and delivered to drivers.
A steam-driven process in an electric age
The management and distribution of WONs and PONs isn't literally driven by steam, of course. But it does feel like it belongs to a different era.

Because rather than being light, electronic documents, WONs and PONs are usually unwieldy catalogue-sized print-outs that often run over many dozens of pages.
And while they're not quite tied with string and sent by carrier pigeon, the reality isn't too far off.
Signed, sealed, delivered – delayed
Indeed, in some train operating companies, WONs and PONS are preferred in paper form, and because of this they must be delivered to drivers by hand.
Not only that, but if a driver is due to receive a new document, they're not allowed to leave the depot or station until it's physically in their hands.
This requires the driver to get off their train and find the member of staff with the paperwork. And every minute it takes to track down that person is a potential delay to the service.
A heavy load to carry
As I mentioned, WONs and PONs are big old wedges of paper. And they're not exactly convenient for drivers.
For a start, drivers have to lug these heavy documents around with them all day – with the risk of losing or mislaying them as they go about their work.
WONs and PONs also contain a huge amount of information, none of it personalised or curated for individual drivers. This can make it difficult to scan, skim and locate the sections they really need to know about.
Cross your fingers and hope for the best
For those back in the office, distributing WONs and PONs is generally an analogue process that relies on trust. Trust not only that drivers have received the documents – but that they've read and understood them too.
Time is also wasted chasing people up and issuing reminders for signatures and paperwork. Given how much rides on WONs and PONs in terms of passenger and public safety, a solution based on good faith and guesswork seems far from ideal.
A smarter way to manage WONs and PONs
A better approach would be to digitalise the entire distribution and management of WONs and PONs.

Removing the hassle and unknowns of a paper-based system would not only improve your business efficiency – it would radically reduce your drivers' admin load.
Some drivers and staff might see digitalisation as a management ploy to monitor their every move or find ways to catch them out. But this couldn't be further from the truth.
The sole aim of digitalising WONs and PONs is to make the whole process more efficient – saving time and stress for everyone. And allowing drivers to focus more on what they do best: driving trains.
Here are six ways a digital solution like mpro5 can make things so much easier.
1. All your WONs and PONs in one place
With a digital workflow solution, all your WONs and PONs are stored in a central cloud location. This makes them much easier for drivers to locate. And it makes document management and distribution a breeze.

2. Instant delivery – no need to chase or guess
From your central document repository, you can send WONs and PONs instantly to whoever needs them. This cuts out the middle person from the delivery chain, and means drivers no longer waste time hunting for people with paper documents.
3. Solid proof of receipt and signature
When you send WONs and PONs through a tool like mpro5, you have a timestamped proof of delivery. You also get a digital signature and record of receipt from the drivers themselves. No more uncertainty or chasing people for their paperwork.
It also protects drivers and staff in the event of incidents or legal disputes. Digital signatures and timestamps provide cast-iron evidence, and reduce the risk of human error, falsification and 'he said, she said' accusations.
4. More time to read and digest key info
A digital workflow allows you to distribute WONs and PONs as soon as they're published, instead of losing time for printing and delivery. This gives drivers more of a head start, allowing them to read and digest key information well ahead of their shifts.
5. Easier for drivers to handle
Drivers can access WONs and PONs anywhere, any time, on a tablet or mobile device – meaning they no longer have to heave around big stacks of paper. What's more, they can use keyword searches to quickly find information relevant to them, rather than manually flicking through whole documents.
6. Better for the planet
Huge amounts of paper are used for WONs and PONs. A digital workflow can dramatically reduce paper consumption and lessen your company's impact on the environment.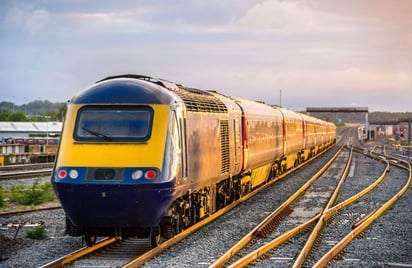 Rail Reform
I think the conversation around this topic is going to get bigger as rail reform moves ahead. The Great British Railway, SQRs and other reforms are in many respects about consolidation and standardisation.
The expectation is that all TOCs will have software solutions for managing their processes and document distribution is no exception. But the benefits for operators who adopt the system are compelling in themselves.
Find out more...
Visit our Transport Page for more content